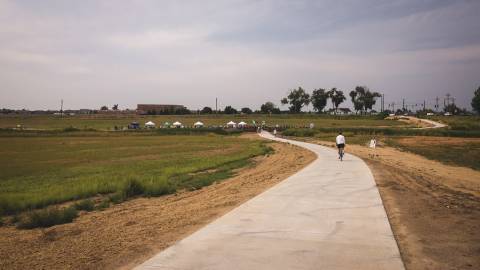 This 4.4-mile, multi-use concrete, multi-use, non-motorized trail opened on August 18, 2018, with a ribbon cutting by elected officials and staff from Larimer County, City of Loveland and City of Fort Collins.
The trail connects Loveland's Recreation Trail at Sunset Vista Natural Area with Fort Collins' Fossil Creek Trail at Cathy Fromme Prairie Natural Area, running along the east side of North Taft Avenue in Loveland and South Shields Street in Fort Collins.
The Long View Corridor (North Taft Avenue in Loveland; South Shields Street in Fort Collins) has been a longtime conservation and recreation priority for Loveland, Fort Collins and Larimer County.
The trail connects western Loveland and Fort Collins through five existing open spaces and natural areas. The natural areas in Fort Collins  accessible from this trail include Colina Mariposa and Hazaleus. The trail also connects Loveland's Sunset Vista Natural Area and Larimer County's Long View Farm Open Space. These public lands are used for growing local food and provide valuable wildlife habitat.
The trail provides a safe alternative to walking or biking along busy roads in the beautiful setting of protected farmland and public lands.
More Info
For more information about the Long View Trail, email Zac Wiebe or call (970) 619-4534.