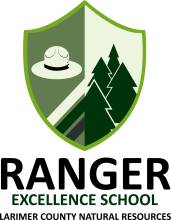 Register for 2020 Ranger Excellence School
Getting to 2020 Ranger Excellence School
Sessions will be held at the Ridgeline Hotel, 101 South Saint Vrain Avenue, Estes Park, CO 80517 (970-586-2332).
If you are arriving via the Denver International Airport (DIA), the Estes Park Shuttle provides transportation services from DIA to the Ridgeline Hotel. 
Accommodations for 2020 Ranger Excellence School
To receive the government discount, please make your hotel reservation via telephone and let them know you are attending the Ranger Excellence School.
Come celebrate the 10-Year Anniversary of
Ranger Excellence School in beautiful Estes Park, CO
The Colorado Open Space Alliance (COSA) Ranger Training Program was established in 2004 when the City of Fort Collins Natural Areas rangers teamed with the Larimer County Department of Natural Resource rangers to implement a routine refresher training protocol for open space rangers. In March 2005, both agencies conducted a joint training to build a working partnership, lower training costs, and complete required annual training.
In 2011, Larimer County Department of Natural Resources began to host the COSA Ranger Training, calling the training the Ranger Excellence School (RES). The reason for the name change is that the week of training has been greatly expanded into a training conference. Instead of having one possible class per day/session, participants can choose one of several options per session to attend. Many more classes have been added to give attendees the freedom to customize the training they desire and need.  The first 8 years we held RES in Loveland, CO.   We are excited to bring the Ranger Excellence School to the beautiful mountain landscape of Estes Park, Colorado.
The Training Conference
Provides rangers with training in swift water rescue, self-defense, medical incidents, law enforcement, wild life and fishing contacts, verbal judo, firearms, Search and Rescue tracking, mountain biking and driving courses.
Equips rangers with certifications such as wilderness first aid/wilderness first responder recertification, oil capsaicin (OC), and baton.
Believes in the importance of highly trained and professional rangers who are skilled in a variety of disciplines.
Understands the importance of serving the public and promotes a high level of customer service.
Provides a network to facilitate the exchange of information between park law enforcement personnel and other park, open space, and recreation professionals.
Desires to lessen the burden of "the last minute scramble" to find and provide the necessary training required for today's ranger.
Follow us on Facebook (Ranger Excellence School) and Instagram (@rangerexcellenceschool)
Ranger Excellence School Sponsors
Gold Level Sponsors
Silver Level Sponsor
Bronze Level Sponsor
Contact Us
Have any questions or need more information regarding Ranger Excellence School?
Cindy Kirby, (970) 619-4454, Larimer County Department of Natural Resources
Zachary Cook, (970) 498-5620, Larimer County Department of Natural Resources