Construction Update
Construction of Sky View Campground is almost complete. After more than 14 weeks of hard work from construction crews, the camping "pods", fire pits, and pavilion pad are visible. In the coming weeks, the pavilion will be installed and final touches will be made on the construction side of the project before landscaping crews come in. Sky View will be open for public use in Spring 2022.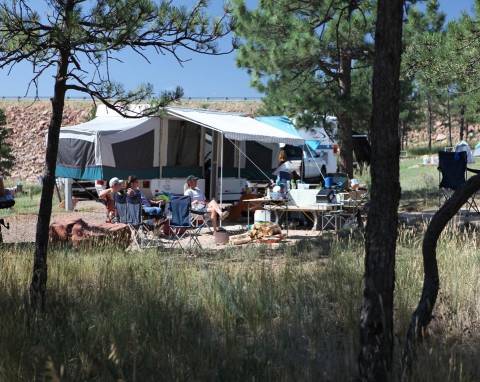 A first for Larimer County
Finishing final technical reviews in late 2020 and planned to begin construction in 2021, Sky View Campground is a 6-acre recreational development project planned near Carter Lake. This exciting project coming to Larimer County will be the first campground catering to large groups. 
In addition, durable paved infrastructure (asphalt road and parking lot) will allow Larimer County Natural Resources to better serve the public, especially those individuals with limited mobility, and is a strategy for more efficient and effective long-term maintenance of the campground. 
Included in the 2007 Reservoir Parks Master Plan, and again in the 2017 Reservoir Parks Master Plan, Sky View Campground was unanimously approved in 2017 by the Board of County Commissioners. Extensive community input was sought and received, which was considered in development of Sky View's features and design. 
Features
First group campground managed by Larimer County; Pod design
Accommodates up to 120 people; 15 campsites total
Greater ease of movement and accessibility for individuals with limited mobility
Durable paved features including asphalt driveways and parking lot infrastructure
Caters to large groups, RVs, and tents
Large reservable pavilion, water/electric hook-ups, restroom, and communal fire ring
FAQs
The campground has 15 sites which can host up to 8 people each. At full capacity, the campground can accommodate 120 people.

Amenities include 15 campsites that can accommodate tents or RVs with electrical hookups, potable water, a large pavilion, group fire ring area, two vault toilets, viewing area. The campground is being designed to accommodate larger group reservations as well as those with more limited mobility.

No, we believe the campground will help absorb the current demand. We are adding Sky View Campground to meet the demands of the present community already utilizing Carter Lake for recreation. Additional campsites will help provide needed durable infrastructure that assists management and enforcement of the area.

Yes. Extensive public input was sought and obtained through the 2017 Master Plan process to develop the concept for the campground, which has guided subsequent design. Over 100,000 notifications were mailed regarding input opportunities, and 3,000 people provided comments regarding the plan. Further input has been collected this summer via a recreationalist focus group and site walking tour for neighbors near the project.

As part of the County Planning Administrative Review, a third-party engineer has completed a comprehensive traffic study to analyze the short- and long-term impacts of vehicular traffic associated with new campground. Preliminary assessment found that the campground would not generate enough traffic to require additional road improvements. A final and full report will be provided by the end of 2020.

Durable gated infrastructure allows our staff to close areas when at capacity or full. This improvement is planned and will be built at the entrance of Sky View Campground. Additional signage and ticketing enforcement also work together to mitigate these concerns.

Assessment is currently in process. Sky View Campground is located on federal land and is therefore undergoing a National Environmental Protection Act (NEPA) review, which analyzes impact on endangered and threatened species of plants and animals. While the NEPA analysis is in process, it is expected that the review will find the project has negligible impact to these species. The project team is also in the process of consulting with Colorado Parks and Wildlife to determine potential impact and any mitigation required for unique or important wildlife habitat, such as migration and winter-range habitat.

There are very limited projects left to complete at Carter Lake. Planned potential improvements include campground upgrades, marina area improvements, day use/parking improvements, and additional pocket swim beaches. Refer to Master Plan for further details.
Click a photo to enlarge.