HAE
International Travel Clinic
2019 Coronavirus
Federal, state, and local public health are closely monitoring an outbreak of respiratory illness caused by a novel (new) coronavirus (named "COVID-19") that was first detected in Wuhan City, Hubei Province, China and which continues to expand. Chinese health officials have reported tens of thousands of COVID-19 cases in China, with the virus reportedly spreading from person-to-person in parts of that country. Cases of COVID-19, most of them associated with travel from Wuhan, also are being reported in a growing number of international locations, including the United States.
On February 2, 2020, the U.S. State Department issued a Level 4 Travel Advisory-Do Not Travel for traveling to China.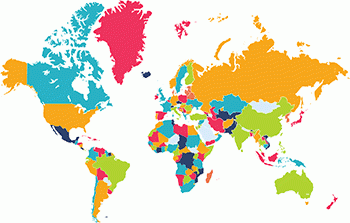 The International Travel Clinic provides health information, immunizations, and medications to maintain health and prevent illness during travel outside of the United States.
Services provided by the International Travel Clinic vary depending on your destination and may include:
Immunizations that may be routine, required or recommended for travel outside of the country. Depending on where you are traveling, you may need immunizations against Typhoid fever, Japanese Encephalitis, Yellow Fever, as well as other immunizations that are also routinely recommended in the U.S. if you have not already been immunized. 

Medications to prevent malaria

Medications to manage traveler's diarrhea

Information about how to reduce your risk of getting food and water-borne illnesses, as well as how to avoid other infections, illnesses, and injuries that might be a risk for you during your travel.
The International Travel Clinic is registered by the state of Colorado as an official provider of the Yellow Fever vaccination and International Certificate of Vaccination against Yellow Fever. However, at this time the Clinic does not have access to this vaccine due to the national Yellow Fever vaccine shortage. Some other clinics do have a limited supply of this vaccine and we would be happy to help you connect with them. Please call the clinic at (970) 498-6795 or complete the travel form below.
---
To use the Travel Clinic:
Plan Ahead
Please plan to contact the Travel Clinic for evaluation and health services at least 6-8 weeks before your travel. Some health services that might be recommended for your travel must be given with enough time for them to take effect before your travel begins. If you are leaving sooner than 6-8 weeks from now, we will do our best to assist you with your travel plans.
Complete the Travel Form
To better help us streamline services for you, please complete this form. A travel nurse will contact you within 2 business days to recommend services you may need for your trip. If it is recommended for you to come in for a travel consultation, the travel nurse can assist you in getting scheduled for this appointment.
Bring your Immunization Record to Your Appointment
If it is recommended that you come into the clinic for a travel consultation, please bring your immunization records with you to your appointment. These can also be shared electronically via the Travel Form.
---
Travel Clinic Fees
Travel Clinic services must be paid for in full at the time of the clinic visit. We do not bill health insurance. Travel consultation appointments are $70 for the first individual, $70 per additional adult, and $25 per additional child.
Travel Clinic Fees

| Adult and Travel Vaccines | Injections Needed | Price |
| --- | --- | --- |
| Cholera |   | $258 |
| Hepatitis A & B Combination | Series of 3 doses | $112/dose |
| Hepatitis A (19+ years old) | Series of 2 doses | $65/dose |
| Hepatitis B (19+ years) | Series of 3 doses | $73/dose |
| HPV | Series of 2-3 doses* | $263/doses |
| HiB (special circumstance only) |   | $64 |
| Influenza (flu shot) |   | $39 |
| Influenza (50+ years old; Flu Block) |   | $63 |
| Japanese Encephalitis | Series of 2 doses | $324/dose |
| Measles, Mumps, Rubella (MMR) |   | $107 |
| Meningococcal (Menactra) |   | $153 |
| Meningococcal (Bexero) | Series of 2 doses | $189/dose |
| Pneumonia (Pneumovax 23) |   | $131 |
| Pneumonia (Prevnar) |   | $233 |
| Polio |   | $60 |
| Rabies | Series of 3 doses | $349/dose |
| Shingles | Series of 2 doses | $181/dose |
| Tetanus, Diphtheria (Td) |   | $61 |
| Tetanus, Diphtheria, Acellular Pertussis (Tdap) |   | $62 |
| Typhoid (shot) |   | $139 |
| Typhoid (oral) |   | $80 |
| Varicella (chickenpox) |   | $171 |
| Yellow Fever |   | Currently Unavailable |
*Doses needed depends on someone's age when starting the series.
For more information about recommendations for international travel, please visit the Center for Disease Control's travel website or the U.S. Department of State's travel website.
Travel Clinic Hours By Appointment Only
Fort Collins Office 
(970) 498-6700
Mon: 9 a.m. – noon & 1 – 3:30 p.m.
Friday: 1 p.m. – 4:30 p.m.
Loveland office
(970) 619-4580
Wednesday: 10 a.m. – 2 p.m.
Estes Park office
(970) 577-2050
Monday - Friday: 8 a.m. - 4:30 p.m.