HAE
Immunization Appointments Available
Immunization appointments are now available on Mondays at our Fort Collins location for infants, children, and adults who do not have health insurance, who have health insurance that does not cover immunizations, and for those who have Medicaid. Please call us at 970-498-6767 or complete this form to request an appointment.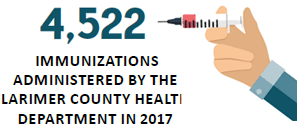 For information about measles and the MMR vaccine, click here. 
The Health Department serves Medicaid and uninsured clients and is not able to bill private insurance. Insured clients are encouraged to receive immunizations at their health care provider's office since preventive vaccines are covered by most private insurance.
The Health Department gives routine vaccinations to those who are in greatest need, including the following groups:
Children
Children on Medicaid
Children with no health insurance
Children whose health insurance does not cover vaccines
Children who are American Indian or Alaskan native (regardless of insurance coverage they do or do not have)
Adults
Adults with no insurance (limited number of vaccines)
Adults whose insurance does not cover vaccines (limited number of vaccines)
Adults with insurance (We may have vaccines available, but patients will need to pay full price for the vaccine and apply for reimbursement from their insurance.)
Contact Health
The Health Department has three locations:
Fort Collins office
1525 Blue Spruce Drive
Fort Collins, CO 80524
(970) 498-6700
Fax: (970) 498-6772
Loveland office
200 Peridot Avenue
Loveland, CO 80537
(970) 619-4580
Fax: (970) 619-4589
Estes Park office
1601 Brodie Avenue
Estes Park, CO 80517
(970) 577-2050
Fax: (970) 577-2060