HAE
Did you know that you can prevent cancer with a vaccine?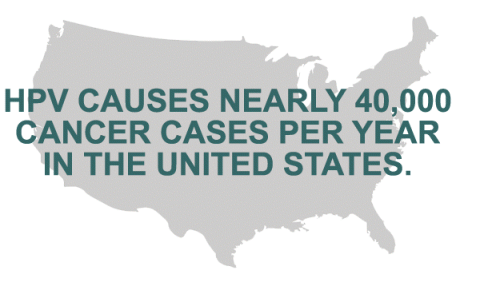 Human Papillomavirus (HPV) is a virus that can cause at least seven types of cancer in both men and women.
What is HPV?
Human Papillomavirus (HPV) is a family of viruses that can infect various mucosal surfaces on the body.
HPV infections are very common. In fact, 4 out of 5 people will have an HPV infection at some point in their life, and it has been estimated that nearly half of men in the United States have a current HPV infection.
HPV infections are often harmless, and people are able to clear the infection with no symptoms or health problems. However, some infections persist and can cause changes to the cells at the body site that is infected. These cellular changes may lead to cancer. HPV causes nearly 40,000 cancer cases per year in the United states.HPV causes the majority of cervical, throat, penile, vaginal, and anal cancers, including:
91% of cervical cancers
75% of vaginal cancers
92% of anal  cancers
72% of mouth and throat cancers
63% of penile cancers
HPV infections can also cause warts, including genital warts.
How does someone get HPV?
HPV is easily passed from person to person through direct skin-to-skin contact, most commonly during sexual activity. HPV is the most common sexually transmitted disease.
How do I prevent HPV?
Getting immunized! The HPV vaccine can protect against the most common types of HPV-related cancers and warts. HPV is so common that nearly everyone is at risk of getting an HPV infection at some point, so it is important for everyone to get the the HPV vaccine during adolescence.
The HPV vaccine is recommended for everyone ages 9-26.  
Adolescents need the HPV vaccine around age 11-12 to prevent HPV-related cancers later in life. HPV vaccine works best when it is given to boys and girls at age 11 or 12 years. Adolescents can start the HPV series as young as 9, if advised by their healthcare provider. All adolescents 9-14 only need two doses of the HPV vaccine to get full protection.
Teens and young adults who are 15 years or older and have not started the series will need three doses of the HPV vaccine. The vaccine is recommended for males and females up to age 26.