HAE
Site & Soil Evaluation Requirements
Download Site & Soil Evaluation Requirements as a PDF
The site and soil evaluation is an important part of the permitting process for on-site wastewater treatment systems (OWTS). The site evaluation is used to determine if site and soil conditions are suitable for installation of an OWTS, the size of the soil treatment area, and if any physical features such as lakes, creeks, irrigation ditches, drainages, or wells that may require setbacks to prevent possible contamination.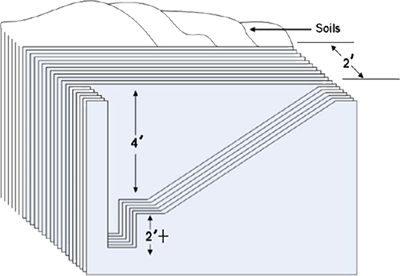 As of June 4, 2018 all applications for a new on-site wastewater treatment system must include an inspection of two test pits as part of the site and soil evaluation. All site and soil evaluations must be made by or under the supervision of a professional engineer.  

Soil test pits must be constructed per the following guidelines;
The test pit(s) must be dug in the area of the proposed soil treatment area to a depth of eight feet, or less if groundwater or bedrock is encountered before eight feet. The hole should be benched at a depth of four feet below grade and sloped back to the surface at 45 degrees to allow for entry to the benched portion.
The test pit must remain open for inspection by Larimer County and the engineer or system designer. The test pit must be secured by using fencing, staking a line around the perimeter, or other effective methods. If the test pits must be backfilled prior to applying for the permit, a Site Evaluation may be requested, however a separate inspection fee is required.
If percolation testing will be completed on the site two test pits must also be evaluated.
Results of the test pit evaluation and percolation test (if completed) must be submitted with the OWTS application.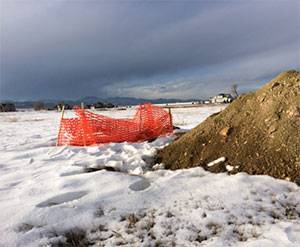 A soils report is required for all systems. The report must show calculations for each component, a proposed layout of the soil treatment area, depth of tank, proposed dimensions of trenches or beds, distribution boxes, manifold, or other components. For standard systems the may be included as part of the soils report, or submitted separately. If any of the following conditions exist the system must be designed by a professional engineer;
Sites with a percolation rate that does not fall between 5 and 60 minutes per inch, or in soil types R, 3A, 4, 4A, or 5.
Areas where the depth to bedrock or seasonally high groundwater is 4 feet or less below existing grade.
Systems utilizing pressure distribution.
Sites where the proposed soil treatment area is on a slope of 30% or more.
---
Percolation tests are not required if two soil test pits are evaluated by the engineer or system designer. If percolation tests are performed they must follow the guidelines in the regulations. Two test pits must be dug regardless of whether percolation testing is performed or not. 
Minimum of three test holes, 8-12" in diameter, spaced in area where soil treatment area is to be located.
Depth of holes must be 6-18" below proposed infiltrative surface. If unknown, holes of varying depths may be used, maximum percolation test depth is 5- 1/2 feet below existing grade.
Add 2" sand or gravel to bottom of hole, presoak hole 24 hours prior to conducting test.
Adjust water depth to 6" above sand or gravel in bottom of hole, measure the water level drop over 30-minute intervals for 4 hours. Refill water level to as necessary throughout test.
The water level drop in the final 30-minute interval is used to calculate the percolation rate, NOT an average of all drops recorded for the hole.
The duration of the test may be reduced to 2 hours if by that time 3 successive water level drops have stabilized.
Sandy soils where all the water (after the presoaking period) seeps out within 30 minutes may take measurements every 10 minutes for a period of 1 hour.