Office of Emergency Management
We strive to create sustainable communities and to protect life and property by empowering all who live, work, and visit the County to prevent, mitigate, prepare for, respond to and recover from all types of emergencies and disasters.
For phone information about an emergency, call the Larimer County Emergency Information Line at (970) 498-5500. Do not call 9-1-1 unless you have an actual emergency to report.
RESOURCES
SPOTLIGHTS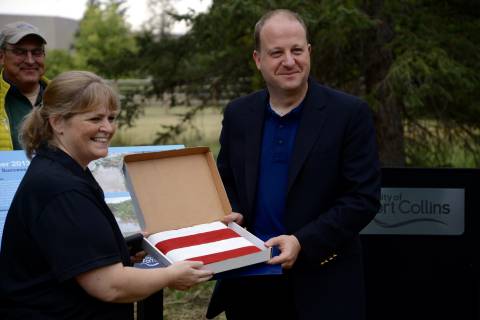 Hodges Honored by Congressman Polis
Lori Hodges, Director of Emergency Management, was recently honored by Congressman Jared Polis with a Certificate of Special Congressional Recognition for outstanding and invaluable service to the community and a U.S. Flag flown over the U.S. Capitol.
Contact Us
Office of Emergency Management 200 West Oak Street
Fort Collins, CO 80521
Emergency Information Line: (970) 498-5500
Kohl Parrott
Emergency Management Coordinator
Work: (970) 498-7146
parrottck@co.larimer.co.us
Social Media links:   Facebook Twitter