Welcome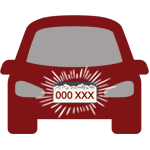 Welcome to Phone Tag's New Plate with Registration page. The first step is to decide if this option is right for your transaction.
Can I do this?
Must be listed as an owner of a purchased or financed vehicle
Must have title in name or received Title Complete Notice
Need to purchase a new set of license plates
If the above applies to you, visit:
What do I need?
What you need:
Once you have your documents in hand:
Make the call
Call 970-498-7878 (Option 5) to speak to one of our agents
Upon completion of your transaction, please share your experience with us, take our survey at www.larimer.org/tellusmore.
* Note: If you are requested to upload files or photos to complete the transaction, please: Use Our Upload Form
You may upload multiple files using this form -or- use your smartphone to take photos of the requested documents. Once the form is submitted, the documents will be emailed to our staff.
Only upload requested documents for a current transaction