NOTICE OF WITHDRAWAL - Tyler Gearhart
Click HERE for information regarding the withdrawal of Tyler Gearhart - St. Vrain Valley School District RE-1J
2021 Coordinated Election
Election Day:  Tuesday, November 2, 2021
Ballots will be mailed the week of October 11, 2021
Latest version of the  2021 Coordinated Election Calendar (updated: 9/15/2021)
We will continue add information about the 2021 Coordinated Election as it becomes available.  Continue to check this site for more information.
Notice of Election
2021 Coordinated Election - Notice of Election
Sample Ballot
Non-Voter Specific Sample Ballot
Voter Specific Sample Ballot  
To view the sample ballot based on your specific voter information:
Visit the Larimer County website at vote.larimer.gov
Click on "Check Registration" (you will be redirected to the Colorado Secretary of State's website)
Enter the required information (First and Last Name, Zip Code and Birth Date)
Click on "I'm not a robot"
Search 
Click on "Ballot Information"  (just below your name)
Click on "View my sample ballot"
NOTE:  This is not an official ballot.  Do not submit this as your official ballot or it may not be counted.  
            Official Ballots will be mailed to all active registered voters the week of October 11, 2021.  
Colorado Legislative Council Ballot Issues ("Blue Book")
Click here for information on the Colorado Legislative Council Ballot Issue Information Notice
Local Ballot Issue Notices (TABOR Notice)
Per the Americans with Disabilities Act (
ADA
), Larimer County will provide a reasonable accommodation to qualified individuals with a disability who need assistance.  Services can be arranged with at least seven business days' notice.  Please email us at 
elections@co.larimer.co.us
 or by calling 970/498-7820 or Relay Colorado 711. "Walk-in" requests for auxiliary aids and services will be honored to the extent possible but may be unavailable if advance notice is not provided.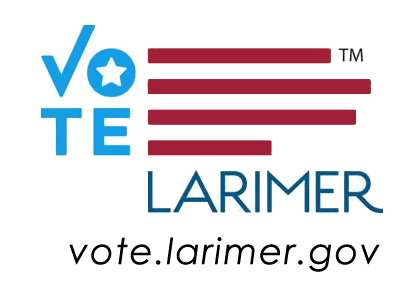 Contact Elections
200 W. Oak St., Suite 5100, Fort Collins, CO 80521
PO Box 1547, Fort Collins CO  80522
HOURS: Monday-Friday 8:00am - 5:00pm (except holidays)
EMAIL: elections@co.larimer.co.us
PHONE: (970) 498-7820
FAX:  (970) 498-7847
Our Locations | Facebook | Twitter